15 BEST 2D ANIMATION SOFTWARES IN 2022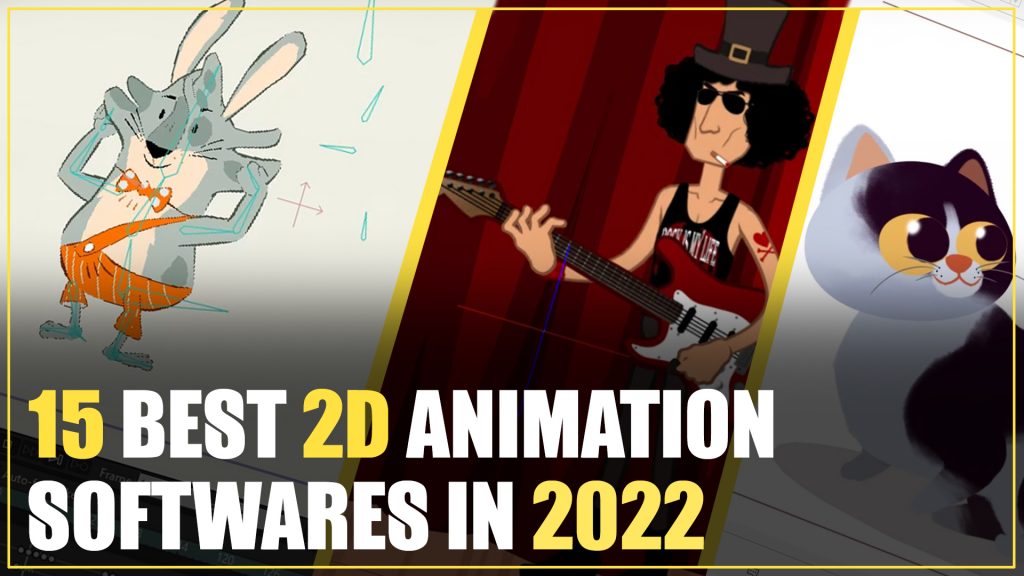 Hello guys. In this video, we will talk about amazing 2d animation software. If you love animation and if you want to tell your stories with moving images, this video is right for you! Over the years, the animation sector has moved forward and currently, the animation is needed in various fields! For example, the animation is needed in a cartoon or a computer game. We all watched these animations from outside. Have we ever wondered how do they do them? If you are watching this video, you probably have… Before starting this video, you can like the video and subscribe to our channel to support us. Let's go…
ToonBoom Harmony – This software is specialized about 2D. Several 2D cartoons are made by ToonBoom so far and came up trumps. It is possible to make square-square animations in the software. If you are drawing well, this feature is for you. Of course RIG System is available. You can get well results with make RIG drawn characters. So, you need to use this software if you want to be a 2D expert.
Pencil2D – You can make vectorial drawings with beautiful animations in this software. Thanks to this software's basic interface, we can make our animations easily.
Moho Pro – Moho is an animation king. Yeah, you heard right. Features which inside the Moho make it king. Many animation features and easiness drives it forward. You can make easy and fast animations with fantastic character rig making and dynamics. If your dream is to be a 2D artist, you must choose Moho Pro.
Synfig – As you know, for a classical 2D animation, you need to draw every frame one by one. For example, if a character is walking, you need to draw each frame of the character. This will lead to time loss. Especially in this period, we don't have the luxury to lose time. We have Synfig animation software so that we don't have to lose time. Additionally, it is free! It is supported by all operating system and there are two options. Stabile version and development version. You can go to the official website and download the software.
Pencil – the perfect free software to create animated digital comic books! Pencil is a vector drawing program for Windows that enables creating your own digital comic books. It is based on pen drawing and traditional hand-drawn animation techniques and the software is free. If you are new in animation, you must try Pencil. It can be a good choice for basic work.
Krita – more than just an animation software! If you have drawing skills, Krita offers practical tools and you can make amazing drawings. Of course, if you want your drawings to move, you can turn them into animation! Krita is free software. If you want to support the developers, they have a donation area on their website. You can use this software easily at school or in the workplace. It is an amazing feeling to make wonderful drawings and make them move! You can create your own cartoon and make people watch it. It is a simple and practical software. You can use Kritan in commercial and individual projects. It is possible to use the software for scientific studies as well as by students in the educational institutions.
After Effects – Everyone knows this software. Someone can say; why After Effects? Because we can do everything with this software. Not just 2D animation, we can do 3D animations, visual effects and motion graphics. There are many character rig making plugins for After Effects. We can say Duik and Rubber Horse as well-known. After making the 2D animation, we are compositing it and here comes a perfect cartoon.
Plastic Animation Paper – This is an ideal choice for fast and high-quality work! When we look at their official website, we can see that 325061 people have downloaded the software. This is huge and it is perfect for those who make fast and high-quality animation. You can read the BLOG articles on their websites to see how far they have reached. There is always innovation and comfort. They have explained their software on the homepage with 5 properties. Power, Speed, Efficiency, Easy and Simple. I think you should download it now. I am sure it is something worth using!
OpenToonz – We can say this is an amazing software 2D animation producers. OpenToonz based on Toonz software developed by Digital Video S.P.A in Italy was privatised by Studio Ghibli and the software has been used in creating animation work for years. You can use this animation software for free in both commercial and individual projects. Moreover, it is open coded. This way, anyone can customise the source code freely. If you want to become a professional in animation, you must try OpenToonz.
Powtoon – Do you want to make easy and fast animations? Yes, Powtoon is software that is for you. At once open the software, use its easy interface and make your dream animation. If you are a YouTube broadcaster and you think to produce fast animations, this software is for you, take it and use it.
FlipBook – It is easy to learn and it is very affable software. The interface is very understandable for making animations. You can give a fillip to diagrams with drawing them in the software. It is possible to make very beautiful animations with very easy ways. Make sure that you don't need to very long instructions for use to use the software. Software is very easy, you can learn it instantly.
Cartoon Animator 4 – Cartoon Animator 4 (formerly known as CrazyTalk Animator) is a 2D animation software designed for both ability of entry and productivity. You can turn images to animated characters, control characters with your expressions, generate lip-sync animation from audio, accomplish 3D parallax scenes, produce 2D visual effects, access content resources, and wield a comprehensive photoshop pipeline to rapidly customize characters and create content.
Adobe Animate – animate just about anything. Design interactive animations for games, TV Shows, and the web. Bring cartoons and banner ads to life. Create animated doodles and avatars. And add action to eLearning content and infographics. With Adobe Animate, you can quickly publish to multiple platforms in just about any format and reach viewers on any screen. Create interactive web and mobile content for games and ads using powerful illustrations and animation tools. Build game environments, design start screens, and integrate audio. Share your animations as augmented reality experiences. With Animate, you can do all your asset design and coding right inside the app. Sketch and draw more expressive characters with Adobe Fresco live brushes that blend and bloom just like the real thing. Make your characters blink, talk, and walk with simple frame-by-frame animation. And create interactive web banners that respond to user interactions such as mouse movement, touch, and clicks. Reach your audience on desktop, mobile, and TV by exporting your animations to multiple platforms, including HTML5 Canvas, WebGL, Flash/Adobe AIR, and custom platforms like SVG. You can include code right inside your projects and even add actions without having to code.
Blender – Blender is the free and open source 3D and 2D creation suite. It supports the entirety of the 3D pipeline—modeling, rigging, animation, simulation, rendering, compositing and motion tracking, even video editing and game creation. Advanced users employ Blender's API for Python scripting to customize the application and write specialized tools; often these are included in Blender's future releases. Blender is well suited to individuals and small studios who benefit from its unified pipeline and responsive development process. Examples from many Blender-based projects are available in the showcase.
Blender is cross-platform and runs equally well on Linux, Windows, and Macintosh computers. Its interface uses OpenGL to provide a consistent experience. To confirm specific compatibility, the list of supported platforms indicates those regularly tested by the development team.
As a community-driven project under the GNU General Public License (GPL), the public is empowered to make small and large changes to the code base, which leads to new features, responsive bug fixes, and better usability. Blender has no price tag, but you can invest, participate, and help to advance a powerful collaborative tool: Blender is your own 3D software
15. TVPaint Animation – TVPaint 11.5 Professional Edition is a high-performance raster-based animation software which includes awesome featurees. Plus, TVPaint 11.5 Professional Edition runs in 64 bit mode, for more efficiency on 4K projects. Powerfull animation tools: infinite layers and images, import footage: video, image, sequences, pictures, photos any pixel-based file formats, incredible colouring and texturing engine, import as many soundtracks as you need, make you lip-sync an easy step thansk to the timeline for notes, synchronized with sound and animation.
16. SVGator This software is all you need if you want to create state-of-the-art web animations or animations for your mobile apps. It exports SVG, a vectorial format that's lightweight, scalable and responsive by nature, so you don't have to worry about video formats slowing down your page anymore. It features advanced editing capabilities and can be used to design everything from simple vector animations to complex explainer animations. All this without writing a single line of code. The free plan includes 3 animation exports/month, so you can give it a try to see if it suits your needs.
Thank you for watching this video. I hope this video was beneficial for all of you. If you have any questions, comment below. I will answer all of you. Please don't forget to subscribe to the channel and like the video. You can follow me on social media as well.