15 FREE WAY TO GROW ON YOUTUBE CHANNEL IN 2021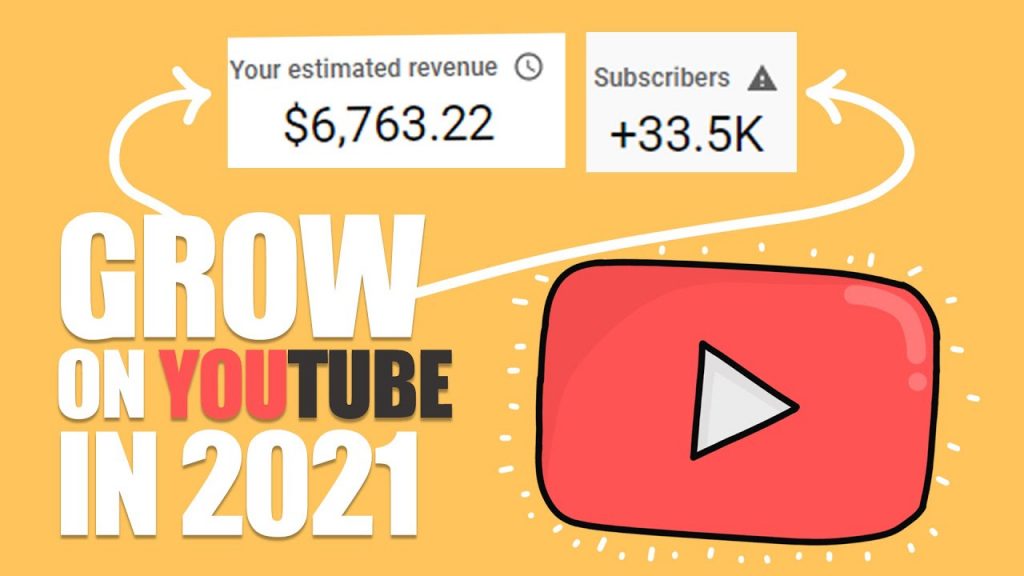 Hello guys. Today, we will talk about a different topic. In 2021, we rolled up our sleeves to offer better training in different fields. In these videos, we will talk about how to earn money online, from YouTube or stock websites as well as business ideas and investments. Additionally, we will show how much money does a channel with 29,000 subscribers makes per month at the end of this video. Please don't forget to like the video and subscribe to the channel! Let's go!
First, you need to choose the correct title for your videos. When you choose a title, you can choose the most searched keywords on vidIQ or keywordtool.io services. Don't forget that finding the correct title has a huge impact on your video. Try to give real titles to your videos instead of clickbait. And most importantly, use 2 styles for your video titles. For example I came to the beach on weekend! (We stayed in the water for 24 hours with a boat). As you can see, there are 2 titles. The reason for that is Title 1 might not attract any audience but Title 2 will make it more interesting and the chances to click the video are higher.
The video must not be too short or too long. 10-15 minutes will be enough. If we consider the current average view duration on YouTube as 4 minutes, making a 1-minute or 25-minute video will not make any sense. Try to make the beginning of your videos very interesting. Because if the audience is bored in the first few seconds, they will leave the video immediately. And this will prevent your channel to grow. How? YouTube algorithm sees that the audience leaves the video in the first 30 seconds and when this is repeated with 10-15 people, the algorithm understands that the video is not interesting and shows the video to few audiences. As a result, your video is shown to a few people.
Try to keep the audience in the video as much as you can. To do that, highlight the important sentence in the title at the end of the video. For example, if you see fish while swimming, try to add it to the last scenes. Because the viewers will probably look for that scene. And if this scene is in the first 20 seconds, the audience will already watch the fish scene and leave the video.
Prepare interesting covers. My experience showed that videos with bright covers attract more attention. You can use Canva, Crello or Adobe Photoshop to create a dazzling cover. Canva is the ideal option for beginners as there are templates there. But do not use clickbait or unethical covers. YouTube algorithm will understand that and it might intervene with your channel. The best way is to use original, well-designed and not clickbait covers.
Always keep your YouTube channel active. Comment on different popular videos and answer the comments of your own videos. Most importantly check the name of the comment owner and address the user with his or her name. Psychology shows that when we address a person by his or her name, they like it and they have a positive attitude towards us. When you do that, you can make your subscribers feel special and turn them into loyal subscribers. If you don't have time or interest to answer the comments, at least use the heart smile.
Try to be a trend. By creating videos about popular topics, you can follow the trends. And this will bring higher views to your video and increase your channel viewers. For example, if your channel is a global one, you can follow the news around the world and create an interesting video about a hype topic. There are lots of channels that became successful on YouTube with this method. If your channel is not global and addresses to your own country, then you can only follow the trends in your country. After your channel grows, you can create your own trends and make the other channels follow these trends. In any case, this will bring you new subscribers and views.
Share the video in all social networks in the first 48 hours after sharing it. Facebook, Instagram, Vkontakte, Reddit etc. You can reach more viewers by sharing your video on these platforms and enable the YouTube algorithm to see your activity in this video.
If you have not made money on your YouTube channel yet, you need 1000 subscribers and 4000 hours of watchtime. If we make an estimated calculation, if your videos are 10 minutes long, you will get average of 5 minutes of watchtime and if you have 44,000 views to these videos, you will have 4000 hours of watchtime.
Another advantage of having an 8-minute video is that you can place ads to any location for videos longer than 8 minutes. But do not make an 8-minute video to give more ad. You can make your video 8-10 minutes long interestingly without boring the viewers. This way the viewers can watch the 8-minute video without getting bored.
If you win, YouTube wins. This is why although it is not officially announced, it is known that promotion videos on YouTube have higher priority. So, try not to deactivate the monetisation function on your videos. When can you deactivate monetisation function? If you talk about illegal topics, use clickbait covers or swear in your videos. You can get more information from YouTube FAQ section.
Regularly share new videos. This will help you to gain new subscribers. Try to share a new video every day. Doing that will make the viewers remember you. For example, if a new subscriber sees your videos on the next day, on the following day or during a week, the subscriber will get used to you and become your loyal subscriber. But if you share a video once in every 2 months, your subscriber will not click on the video when he sees your video 3 months later, will not remember who you are or even cancel the subscription.
Promote your videos. There are different types of ads on YouTube for videos. Allocate a budget for ads and show your video to more people. Of course, you need to do that to grow faster. Additionally, you can pay large channels to promote your videos on their channels. Or you can create your videos with big channels. Also, you can increase your viewer audience by promoting your YouTube channel on Reddit, Pinterest, Facebook and Instagram.
Address to viewers in your videos. If a non-viewer is watching your video and left your channel, you didn't manage to address the viewer. You can ask the viewers to subscribe to your channel with the video to gain that viewer. This is especially more effective with the tools at the end of the video.
Search on YouTube by using the keywords that match with your channel. For example, if your channel is about Fortnite game, write Fortnite to the search box and select the latest videos from the filters. You will see that new videos are uploaded 2-3 minutes ago. Comment under these videos without spamming. You will probably comment on small channels and they will be happy to see your comment. They will visit your channel, analyse it and subscribe to your channel as a thank you.
Do you want to earn more money with your videos? Then, you must try this tactic. As you know, there a lot of companies around the world that spend a lot of money on online advertising. These can be fast-food chains, electronic stores or car brands. You can talk about one brand in any of your videos and make an 8-minute-long video for that brand. The video must not be an ad and it must be about the brand. For example, you can buy and taste different hamburgers from McDonald's. Then, McDonald's and similar fast-food ads will be shown after your video. Or you can go to a car dealer and make a video of the famous car brands. In this case, ads for car brands will be shown after your video and you will earn more as these are more expensive ads.
This is the end of our video. If you like the video, please click on subscribe button and subscribe to the channel. If you have any questions, comment below. We will certainly check the comments. Now, Nijat İbrahimli will show the monthly and daily income of his channel with 24,000 subscribers. Enjoy!