15 QUESTIONS ABOUT MOTION DESIGN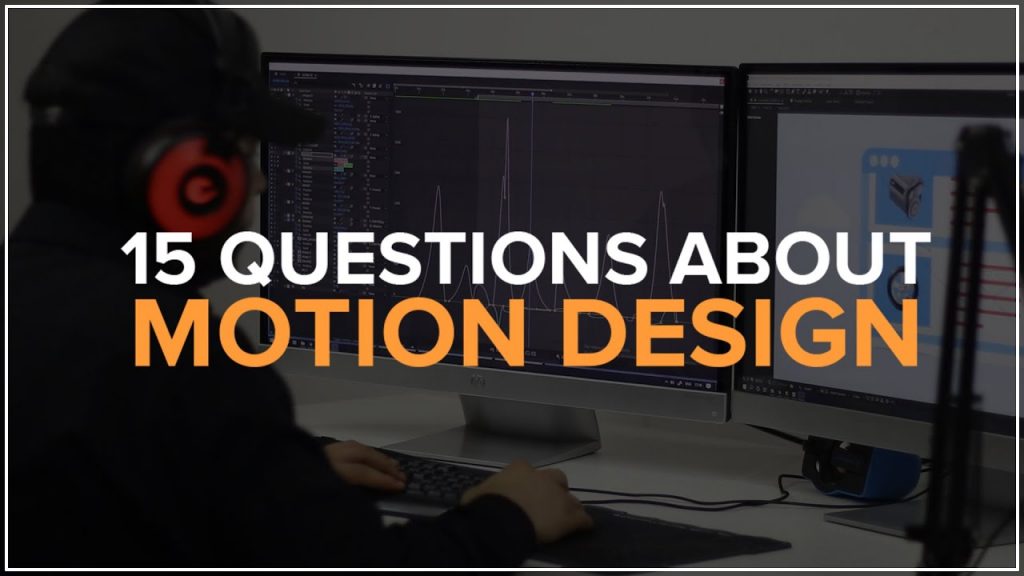 15 Questions About Motion Design Field
Hello guys, welcome to another informative video! In this video, we will answer the top 15 questions in motion design. If you are new in motion design and if you have some questions, I hope you will find answers in this video. Before watching this video, you can subscribe to this channel and support me. Additionally, you can follow me on Instagram. Let's go…
Which program should I learn? – If we are talking about 2D motion design, you need to learn After Effects. If you want to create animated images, you need to learn Adobe Illustrator! But if you are only interested in animations After Effects is sufficient. I can talk about After Effects program for hours. I just want to say that everyone can learn this program. The technical aspects of the program. But you will need experience and logic to prepare any animation at certain times. Because you can do the animation in the program in a few different ways. The different ways will all take you to the result.
What type of computer should I have? – If you are new in After Effects, you don't need a perfect computer. Because if you just started, you will only use the basic commands in After Effects. When you learn more about the program, you will see you need to buy a stronger computer. You will need a better computer. If you don't have too much budget, Intel i7 9700, Nvidia RTX 2060, 32 GB DDR4 Ram will give you moderate performance. You can ask other parts to match these properties from the store. A computer with these properties costs $1,470 in my country. But of course, prices are different in different countries. The prices might be expensive or cheap in your country. This is a topic for another video and I will make a comprehensive video about it. Because soon, I want to build a new computer and I will share all the details in a new video.
Can we create visual effects with After Effects or NUKE is better for it? – This is a good question! First, you need to decide which field do you want to gain expertise. Motion Design or VFX movies? If your answer is motion design, I will recommend After Effects. If you answer is movies and visual effects, my answer will be Nuke! Let's get into more details. After Effects is the perfect program. With this program, you can create motion design videos, 2D animation, movie effects and photograph-video editing. Of course, you will need Photoshop to edit photographs and Adobe Premiere to edit video. After Effects is an ideal program for motion design. Because there are no other programs to replace it in this field. But it is not fair to compare it with Nuke. Nuke is a very professional movie VFX software. The most important property of this program is the operation with Node system. After Effects still operates with layer system. Currently, most of the programs have transited to the Node system. I wonder why After Effects still uses the layer system. This might be the indispensable property of Adobe. Nevertheless, let's go back to our topic. Nuke made various global movies. One of the examples can be given as the Avatar movie. But After Effects cannot do this much movie effects and we will get exhausted in the process. Isn't it possible? Well, it is possible but it is like editing the videos with After Effects while you have Premier.
Which steps do you need to create a 40-second motion design? – First, you need to get a brief from the client. Why? Because the client might have special requests for the video. Important things about the service, special notes etc. Also, the summary, company policies, brand colour, logos, highlighted statements and desired target audience are outlined. After collecting complete information about the company, we will continue with scripting-e. Here, you can see the scene sequence, the details, scene transition effects, text, character movements and objects. When these are ready, we will start the storyboard. Each scene is drawn separately in the storyboard. What is the purpose of this? This is to make both you and the client comfortable. The client will get a preview about how the animation will look. Motion designer does not have to memorise all the scenes. It is sufficient enough to look at the storyboard for each scene. Then, vectors for the scene are prepared. If you are working in the motion design field, the designer must create these vectors instead of you. But if you are both designer and motion designer, you can do it on your own. Also, you can use free or paid vector websites for the vectors. Freepik is a free website and Shutterstock is a paid website. Don't forget to add copyright when you use Freepik. The best is to read Freepik rules before using. Start the animation after you complete the vectors. We follow the storyboard when we do the animation. The animation must be visually dynamic, interesting and most importantly with words in the screenplay. We must remember that we will need a background voice for the animation. This is the voice of voice artists. We need to use it when we prepare the animation to synchronise the scene and the audio. After doing all that, we open the Adobe Premier program and create voice effects, transitions and background music. This is almost the last stage. Here, we apply a special voice effect for each animation movement. Lastly, we prepare the video for rendering. And we are done. Enjoy.
How can I create a portfolio? – You can use both paid and free services. Behance, Dribbble, Vimeo, YouTube, blog and other portfolio websites are the free options. Creating your website with a domain and hosting is the paid service. For example, yourname.com. Here, you can create your portfolio and show it to your clients. Creating a new website is not hard. This process has become simple and easy. You can create your own website on WordPress by using only 3-4 clicks. Most importantly, you don't need any coding knowledge. You can choose a WordPress template and do the settings. There are certain advantages to use Behance and other services. There are millions of people on the Behance platform and if your portfolio caught the attention of a company, they can contact you for collaboration. If you have your own website, you can attract customers by posting ads on Google and other ad platforms.
How can I reach potential customers? – Before reaching to potential customers, you need to have a strong portfolio. If you have a strong portfolio, your chances to be discovered are higher. For example, think of yourself as a client. If you were a client, would you hire someone without a portfolio? Of course not. Also, if you have animations in different fields, the client will choose a suitable animation and inform you. This way both the client will explain his/her needs and you will clearly understand what your client wants. I will give you a secret. If you are doing a job well, the clients will reach you. This might sound like a cliché but I am telling this with my 10-years of experience. At first, I have used different methods to find clients. But my portfolio expanded over time and my clients started to recommend me to new clients. And we have this paradox as well. I must have worked with a company to create a good portfolio to increase my animation versions. There is a simple way to do that. You will see company promotion videos on social media. For example, a delivery company is posting ads on construction sites, supermarkets or other areas. You visit the websites of these companies, collect their e-mail and contact numbers and contact them. Offer your services to them and give a 3-4 times lower price offer than the normal market prices. When they ask why your prices are low, tell them that you are new in this market and ask for a chance. 90% of the clients don't say no to this offer because it is an amazing chance for them. When you do that, you already have 1 portfolio. Then, you can apply to any company like this. Remember, if the first firm is satisfied, they will certainly get back to you. Since innovation and campaigns always exist in the service sector, you need to revive them. They will choose you because you are a cheap, high-quality and reliable person. You can slowly increase your prices and go up to market prices after getting back.
I struggle with inspiration, where and how can I get inspired? – The answer to this question is simple. Spend half of your day on following artists pages on Instagram, Behance and Dribble. Try to make the animations you like. Pay attention to the work of experts and how do they use colours, transition effects and techniques. And most importantly, open After Effects every day and try to do something for at least 2 seconds. If you do something every day, you will be an expert on this topic.
How can I use correct colour harmony in motion design? – Colours are very important in motion design. When you set the right colours, your simple animation will look great! First, I must note that a designer must present you these colours. Because motion designer only does animation. But if you are also designing scenes as well as animation, try to find a single colour style and apply it to the end. If you are doing a flat style animation, try not to use more than 4 colours. Do not make a different style for every character which will lead to poor quality. All colours in all styles must match each other. Otherwise, your work will not be visually pleasing even if you do a beautiful animation.
How can I enter global markets with my motion design knowledge? – Entering the global market is a bold expression. Because there is a very strong motion designer around the world. But don't let it discourage you. This does not mean you will not become a world-famous motion designer. The important thing is to improve yourself and to publish your works on social media and portfolio websites. When you get positive feedback from people, you will see that your works are loved by others. Remember, you are opening to the global market in all the works you share online. Anywhere on the planet can watch your animation and comment on it.
How can I earn extra income from home with my motion design knowledge? – I will answer that without thinking: Stock websites! By using your animation knowledge, you can design templates and animations for stock websites and achieve good sales. I am telling you about my experience. If you are only interested in stock animation, you can watch my "how did I earn $10,000 from Video hive video". People earn millions of dollars from stock sales. The principle is simple. You can create a template or stock animation on After Effects and sell it on Envate market and other stock websites. There are some tricks to sell on stock websites. I will tell you the most important ones. Take a calendar and follow the special days. For example, start doing Christmas animations 2 months before Christmas. Then, prepare animations for 14 February Valentine's Day. Then, start creation summer and ice-creme themed animations. Then, focus on Back to School and Halloween. When you create animations for special days on stock websites, you can sell 8 times more than normal. For example, I sold more than 5 times for Halloween this year.
What is the future of motion design? Is it worth to invest in this field? – I sometimes stumble upon some websites. There are websites with more than 500 preset animations. With monthly subscriptions, you can create cartoons and explanatory videos with these animations. I am a bit worried about it. As it turns out, this field is ending. But we think about it, we can see that clients receive different and unique scenarios. Let's think about it. We are using that website with the client's scenario. It doesn't sound ethical right? And the client wants a unique animation design. Re-using the animations from a platform that everyone uses is not suitable for operating principles of various companies. So, there is no need to worry. Artificial intelligence is not advanced enough to cause motion designers to be unemployed. Keep on working!
How can you give the right price to the client? – Giving the right price to the client is the weakest point of a new motion designer. The price is either too low or too high. In the end, none of them works. I struggled a bit about pricing when I first started. I was ashamed of telling the price. I mostly gave low prices and bear with it. But over time, you learn the market prices. By learning both the market prices and prices of other motion designers, you create your own price. Believe me, you will be able to tell the price immediately when a customer wants a project. Because all of them are based on experience. Time will make everything work.
I am new, how can I become a professional? – There is only one way to be professional in this job. Open the programs every day and prepare something. Make a small challenge for yourself. Promise to make at least 5-second animations per day. Doing this will have tremendous benefits for your development. After a while, you will be able to use the programs even if your eyes are closed. You will learn all the shortcuts and work fast. There will no longer be anything that bothers or prevents you. As you work more, you will get more experience, more money and more clients.
Which programs should I know in addition to After Effects in the motion design field? – In addition to After Effects, it is better to learn Cinema 4D. Why? Because working with 2D animation has its limits. You need to start working with 3D after a while. I don't think I need to explain Cinema 4D. You all know that Cinema 4D is an indispensable program in the motion design field. Also, Cinema 4D can work with After Effects. In addition to Cinema 4D, if you want to do a frame by frame animation, you can learn free Pencil2D program. Because there are some hard-to-create scenes on After Effects. This is why your work quality will increase by learning frame by frame animation.
Freelance working or working in an agency? – This is a good question. I am sure that all agency workers want to be a freelancer. Freelancers want to have regular income from stock websites. My answer is working with an agency at first and then going freelance. Because you will gain experience when you work in an agency. You need to step inside freelancer life after seeing the professional atmosphere. Working as a freelancer directly might be challenging for you. Finding clients and business processes will be hard. You will see and learn all of them in an agency. Then, you will apply what you have learned to your job.
Thank you for watching this video. I hope this video was beneficial for all of you. If you have any questions, comment below. I will answer all of you. Please don't forget to subscribe to the channel and like the video. You can follow me on social media as well.