BEST 2D ANIMATION SOFTWARE 2019 ( TOP 8 )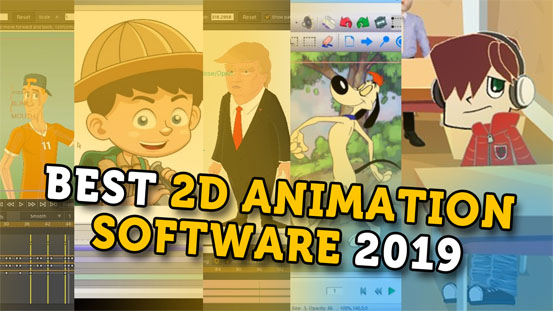 Hello friends, welcome to the video. In this video, we will view best 2D animation softwares of 2019. Let's see we can get better performance and we can do more beautiful animations with which 2D software. Let's start. Before the video, please don't forget to subscribe and like the video because with this you can give motivation to us. Come on.
1. FlioBook – It is easy to learn and it is very affable software. The interface is very understandable for making animations. You can give a fillip to diagrams with drawing them in the software. It is possible to make very beautiful animations with very easy ways. Make sure that you don't need to very long instructions for use to use the software. Software is very easy, you can learn it instantly.
2. Pencil2D – You can make vectorial drawings with beautiful animations in this software. Thanks to this software's basic interface, we can make our animations easily.
3. Powtoon – Do you want to make easy and fast animations? Yes, Powtoon is software that is for you. At once open the software, use its easy interface and make your dream animation. If you are a YouTube broadcaster and you think to produce fast animations, this software is for you, take it and use it.
4. ToonBoom Harmony – This software is specialized about 2D. Several 2D cartoons are made by ToonBoom so far and came up trumps. It is possible to make square-square animations in the software. If you are drawing well, this feature is for you. Of course RIG System is available. You can get well results with make RIG drawn characters. So, you need to use this software if you want to be a 2D expert.
5. Synfig – This software supports many layers; geometric, gradients, filters, warpings, transformations, fractals, etc. Another feature of this software, you can synchronize your animations on music with using Sound layer. Synfig software has key features about music and sound effects. There are more surprises to people who use Linux. They can exploit the software's sound features like a sound editor.
6. Moho Pro – Moho is an animation king. Yeah, you heard right. Features which inside the Moho make it king. Many animation features and easiness drives it forward. You can make easy and fast animations with fantastic character rig making and dynamics. If your dream is to be a 2D artist, you must choose Moho Pro.
7. After Effects – Everyone knows this software. Someone can say; why After Effects? Because we can do everything with this software. Not just 2D animation, we can do 3D animations, visual effects and motion graphics. There are many character rig making plugins for After Effects. We can say Duik and Rubber Horse as well-known. After making the 2D animation, we are compositing it and here comes a perfect cartoon.
8. CrazyTalk Animator – It is understood what it is with its name. It is the software that people who make 2D animations like crazy prefer. If you think making daily animation series and searching the easiest and fastest way for it, you can prefer CrazyTalk Animator.
Yeah guys, we talked about the best, the fastest and the easiest 2D animation softwares. In the next video, we will talk about what is the best 3D animation software. If you enjoy the video, please like it. Your likes will be a motivation source for us to make the next video. Do not forget to subscribe to the channel. Take care!