How to Earn 10,000 Dollar from Envato ( Videohive )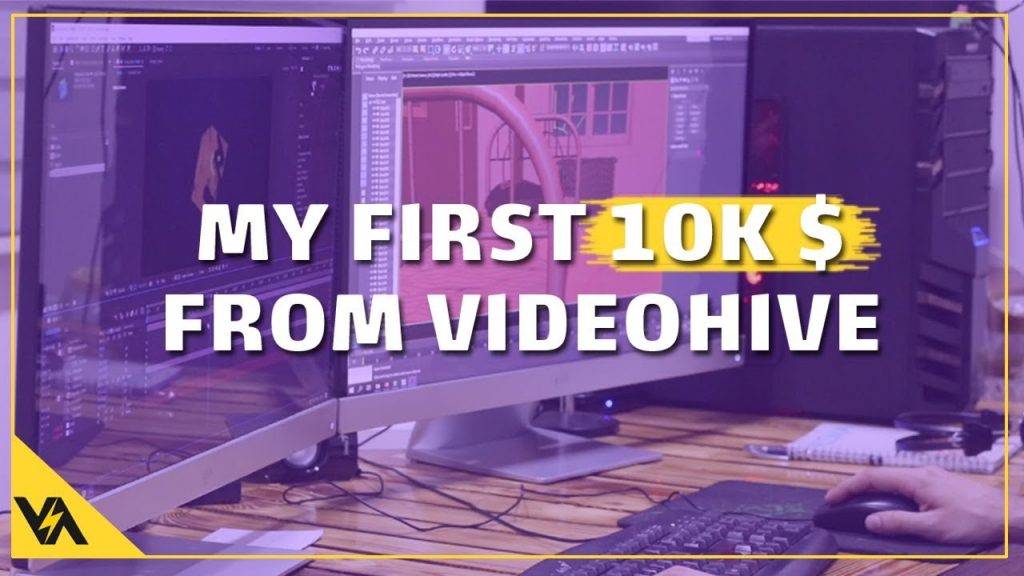 Hi, I'm Nicat Ibrahimli. I live in Azerbaijan and I am 25 years old. In this video, I'm going to tell you about earning $10,000 from Envato's project, Videohive. In addition, I will give you some tactics to make good sales. I will speak of these tactics based on my own experience. To support me, you can subscribe to the channel and like the video. As my videos attract attention from you, I become more motivated and want to make better videos. Let's start!
In 2016, I took my first step in Videohive. I've uploaded 6 files. As a result, surely no files were sold. While uploading the files, I thought that when I got up in the morning I would see that I had made 100 sales. That's funny, right? When I realized this, I left Videohive. I thought I was wasting my time making sales there, and I thought it wouldn't work. I didn't log in to Videohive even once for a full year. In 2017, I was redirected to Videohive when I was looking for a video on Google. When I saw the site, I immediately thought that I had a user account on this site. It intrigued me, I immediately logged into my account and saw that I had a $21 sale. Of the 6 files, only 2 of them were sold, and I made $21. To be honest, I liked it very much and it created a great ambition for me. I decided to be serious about Videohive and upload hundreds of files there. I started making animated videos for Videohive. Sometimes they didn't accept a few of my animations. They said that they didn't meet their quality standards. I didn't give up and reloaded the unacceptable files after improving them. And then they were accepted. While I was producing animations, my sales continued. Being a freelancer, sometimes I was wasting a lot of time trying to deliver orders from my customers and I didn't have time to upload videos to Videohive. But my heart was always with Videohive. Because I could see the potential there… I was making animation videos for Videohive, but I felt sorry for not spending as much time as I wanted. When I shot this video, my total sales were over $10,000. And I've reached a sales figure of $10,000 in 3 years. Of course, this includes commissions and site's earnings. But if you put all my working days together, I've only worked full-time for 6 months for Videohive. I mean, if I had worked full-time for 6 months on Videohive, I could have earned this figure in only 6 months. I often feel that my freedom is being taken away when I work with customers. I get bored and tired. I just want to make money in a comfortable and happy way, without being tied to a place, as a free person! I don't want the customer calling me at 11:00 p.m. in the evening. I'm sure a lot of people like me want such a life. There are many people who want to live without unnecessary phone calls and earn money by working freely and comfortably. That's what Videohive offers us. There are currently 353 files in my Videohive profile. Many of them are not sold immediately, but that is not a problem. When you get into stock, this is already solved. Because stock sites focus on passive income. In other words, the video animation you're currently making can be sold after 2 years. Why am I so sure? Because an animation video I uploaded in 2017 sold 2 times 3 days ago. If customers have problems purchasing your files, they will immediately ask you for support. In this case, you need to support the buyer and solve the problem. By doing this, you gain people's trust and, most importantly, create a good idea about yourself on the customer end. In fact, the numbers I show on Videohive can be a funny figure for some viewers. However, the situation is different depending on the country in which you live. For example, I live in Azerbaijan and I earn a lot of money when I convert it to my country's currency. Because my files sell in dollars on Videohive. Of course, living in America and earning $300 a month on Videohive can be considered a small figure. But you can earn more! I share more stock animations on my Videohive profile. However, you can earn a lot of money by selling Adobe After Effects templates. I only have 2 After Effects templates. Why only 2? As an answer, I can tell you that I don't have a desire to create a template. I'm a little impatient, and I work very messily with the files when animating in After Effects. Tidying them up is a nightmare. In Videohive, you need to create templates that are absolutely appropriate for the buyers. I use After Effects, Element 3D, 3ds max and octane to create stock animations. I work more at night. Because it's not for me to work during the day. I can't concentrate and my productivity is low. My brain works five times faster than normal at night. That's why I'm trying to spend the entire night productively. Let me tell you about my monthly income. Maybe I can motivate you. As you can see, I've been selling very well before. Because I was seriously devoting time to it. You see the numbers going down and that's because I'm spending less time now. I mean, there's no such thing as uploading 500 files to Videohive and resting on the Hawaiian islands right away. You should always update your profile and upload new files. Otherwise, the sales will drop significantly. If you want to get started with Videohive seriously, my advice is definitely to work full-time. You will surely see the value for this. I would like to say that I will shoot the same video again in a year. This time I will show you how many files I have in my profile and how much I have earned. I think the difference will be huge. Because I've been working on Videohive for such a long time. The best thing about this is that you become a professional in the program because you're making a lot of animation files. What could be better than that? Now, we're at the end of the video. Thank you very much for watching. If you have any questions about Videohive, please leave a comment and I will answer as best as I can. Like the video and subscribe to the channel so I can be more motivated and share more information with you. Have a nice day!